Composing new notification e-mails
The notification e-mail editor allows you to compose new notification messages.
Accessing the screen
In the left sidebar menu, click [Campaign] -> [Notification].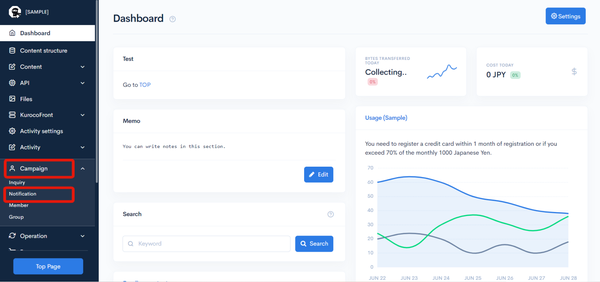 Click [Add] in the right-most column for the notification you want to edit.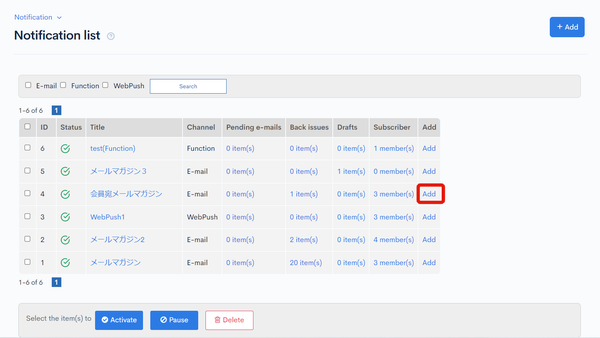 Form fields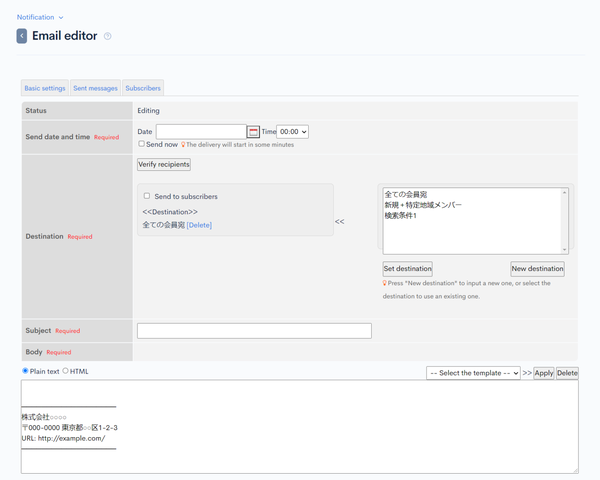 Item
Description
Status
Status of the current e-mail (editing, pending, or sent).
Send date and time
Date and time of delivery.
Destination
Allows you to add recipients other than the default.
Subject
Subject line of the e-mail.
Body
Main body of the message. You may use an existing template.
Note: Selecting "Plain text" disables the use of tags.
Actions

Item
Description
Save as pending
Saves the current message and queues it to be sent.
Note: If you checked the "Send now" box in the previous section, the message will be sent immediately.
Save as draft
Saves the current message as a draft. Drafts will not be delivered, even if you have specified a send date and time.
Save as template
Saves the current message as a template. You can apply templates using the "Select template" dropdown list in the body editor.
Send test
Enter a recipient address and click [Send test] to deliver a test message.