Topics edit
You can edit a topic here.
How to access Topic edit page
Click the [title] of desired topic on the topic list page.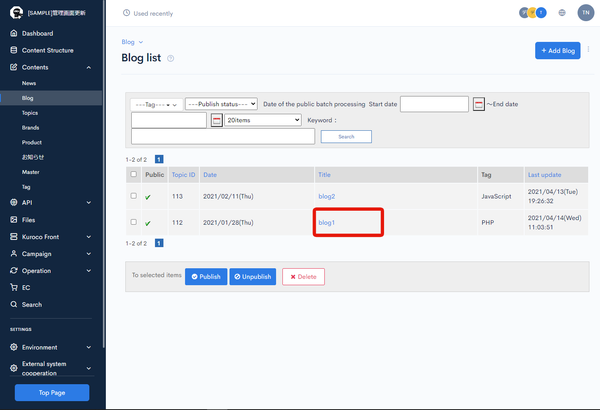 Topics edit item description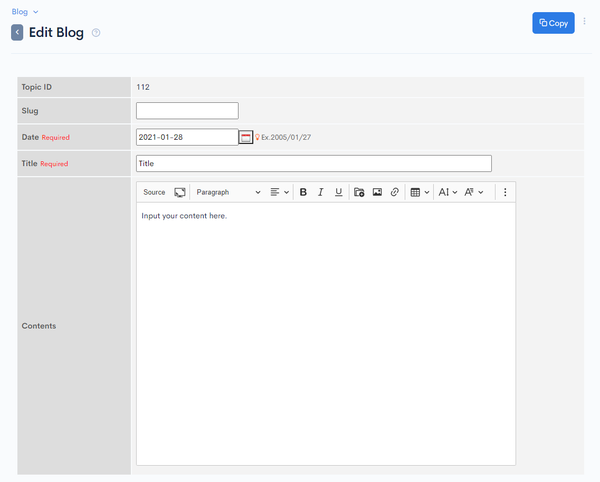 | Item | Description |
| --- | --- |
| Topic ID | Topic ID which is automatically generated |
| Date | You can set the date of the topic. |
| Title | Input the title of the topic |
| Contents | Input the content of the topic. |
*Items are displayed according to the extra column settings on the topic group setting page.
Other settings
| Item | Description |
| --- | --- |
| Display in the list | whether to display on the list. |
| Higher-ranked display | whether to display as higher or normal rank |
| Access Limit | You can put an access limit with the condition which was set on the Custom Search page. |
Related tags

Select tag(s) which is(are) related to the topic. To add a new tag, click [Add new tag].
Topics open relation settings
Send Notification
Item
Description
Related Notification
You can link a notification to send with the topic.
If you set it, the notification edit page will be displayed when adding/updating the article.
Publish settings

| Item | Description |
| --- | --- |
| Publish | publish the content |
| Unpublish | unpublish the content |
| Schedule publishing | You can setup publishing start date and finishing date. |
Buttons & Update comment

Item
Description
Update
save settings
Save as draft
save the settings without updating it
Preview
You can check the preview of the topic.
cf.) Integrate preview page using Kuroco & Nuxt.js
Delete
delete the topic
Update comment
You can leave a comment when updating the topic setting.