Failed Logins
You can check the failed logins here.
How to access Faied Logins page
Click [Failed logins] tag on the login history page.

Faied Logins Item Description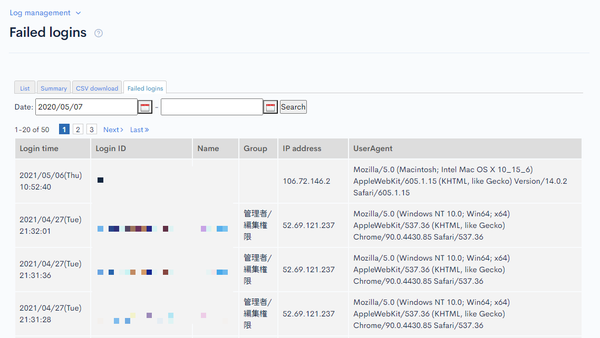 Search
You can filter the list by based on the login time. Specify the period and click [Search] button to filter. If you input the same date in both starting and end, the data of that day is displayed.
| Item | Description | Format |
| --- | --- | --- |
| Date(start) | The data with the login date after this date(time: 00:00:00) will be displayed. | YYYY/MM/DD |
| Date(end) | The data with the login date before this date(time: 23:59:59) will be displayed. | YYYY/MM/DD |
Failed logins List
| Item | Description |
| --- | --- |
| Login time | date & time of the login trial |
| Login ID | the ID or email of the user who tried to login |
| Name | the registered name of the user |
| Group | the group in which the user belongs to |
| IP address | IP address of the login trial |
| UserAgent | User Agent & OS info of the login trial |