Workflow Basic Settings
You can edit a basic settings such as name and contents which use the workflow.
How to access Workflow Basic Settings page
Click [Operation] -> [Workflow].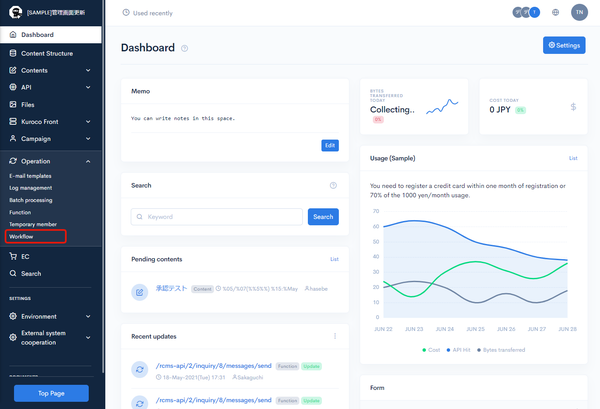 Click [basic settings] of the desired workflow.

Contents Approval

Item
Description
Workflow name
Input the name of the workflow configuration.
Disabled/ Enabled(radio button)
Select whether to enable or disable the workflow. If you want to use the workflow, make sure to select [enabled]. Otherwise, you cannot use the workflow.
E-Mail Notify
Select whether to notify by email when contents are approved or declined.


Don't notify: No notification e-mail is sent.
Notify: Input the e-mail address(es) to which you want to send the notification e-mail in the text box. Put a line break if you want to specify multiple addresses.

Resriction
Select groups which use the workflow. You need to select at least both applicants and approvers.
If you select[No selection], All editors of the content can use the workflow.
*It is different from [Authority settings] of group setting.
Approval contents

| Item | Description |
| --- | --- |
| Content | Select a content you want to apply the workflow. |
| [Add contents] button | Click this button to add more contents. |
The setting for mail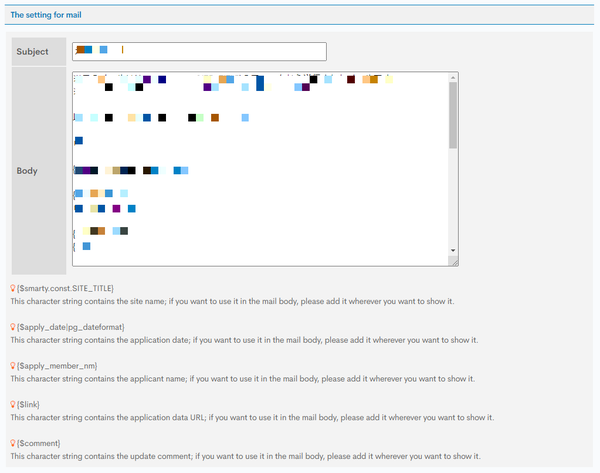 | Item | Description |
| --- | --- |
| Subject | Input the title of application e-mail. |
| Body | Input the content of the application e-mail. |
Buttons

| Item | Description |
| --- | --- |
| Update | save & update the setting |
| Delete | delete the workflow |