Sending e-mail notification
With the notification functionality, e-mail notifications can be created and sent easily. Each notification can set its own delivery destination and scheduled date and time to be sent.
Sending an e-mail newsletter
1. Accessing the magazine list page
Select [Campaigns] -> [Notification].

2. Creating a notification
Click [Create new notification].

Please refer to Basic notification settings for more information. Note) The "Default destination" will be set in a later step, therefore, leave it blank for now.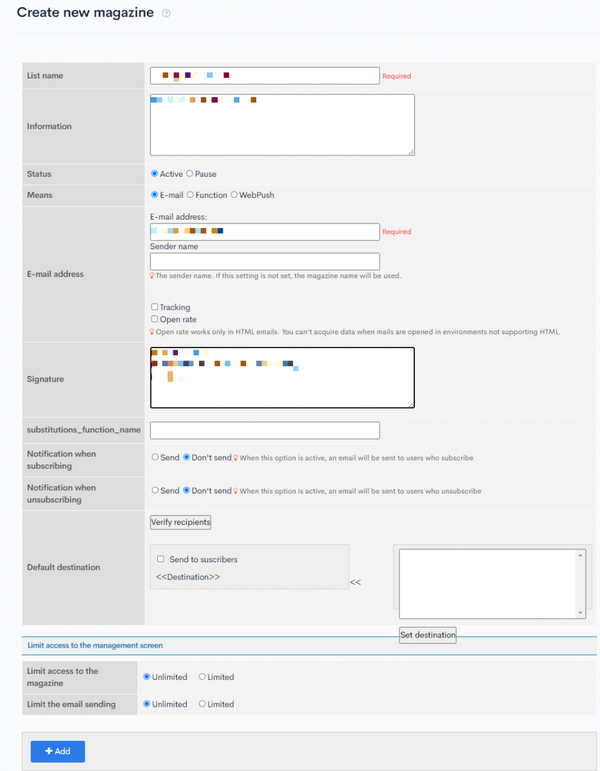 3. Creating a custom search
Please refer to Using custom searches on how to create a custom search. After successfully creating a custom search, it should appear in the list as shown below: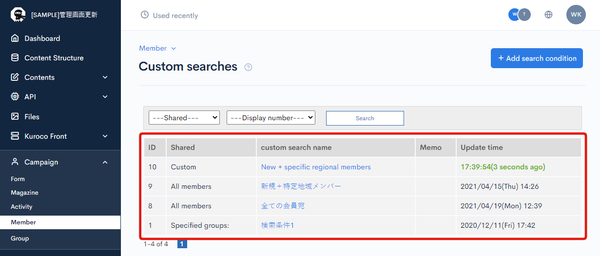 4. Registering subscribers
Please refer to Registering notification subscribers for the tutorial on how to register subscribers for a notification.
5. Default destination setting
Open the basic settings of the notification. The custom searches that was registered will be displayed in the "Default destination" section. Select the desired custom search and click [Set destination]. Select the custom search that was created earlier in step 3.

Click [Verify recipients] to confirm the recipients of the email.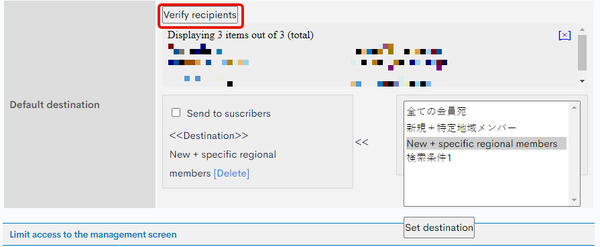 If there are no issues, click [Update] to save the settings.
6. Compose and send the email
Click [Create new message] located at the top right of the notification detail page. Please refer to Composing notification email for more information on how to create a new message. E-mail destination can also be modified here.
Once the setup is complete, click [Save as pending]. The e-mail notification will be sent out at the scheduled date and time.
7. Verifying the e-mail delivery
Check the status of the delivered e-mail notification on the "Sent mail" page. Please refer to Sent notification e-mails for more information.