How to use your original domain name on KurocoFront
This tutorial explains how to use your own domain name on KurocoFront.
To apply your original domain, you need permission to set DNS records for it.
You also need to set up a TLS certificate as you cannot use the existing one.
Click [KurocoFront] -> [Original domain/TLS certificate] on the side menu bar and input the original domain on that page. No slashes or directories are needed at the end.

After few moments, the required DNS record will be displayed, so please set it up from there.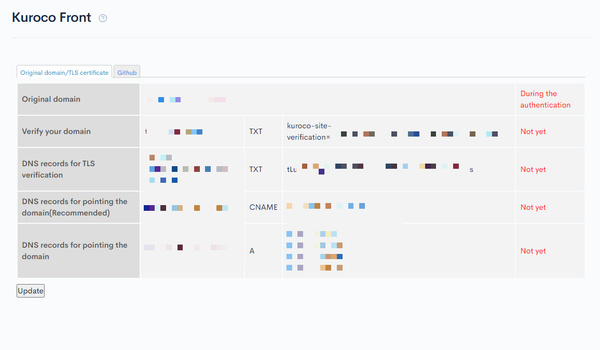 When you set the DNS record, OK is displayed as shown below. When you click the update button, it will be verified, so please use it.

Once all rows change to OK, open the account settings by clicking [Environment] -> [Account] on the sidebar, then change the KurocoFront-end domain.

Please note that it may take several minutes for the TLS certificate to be reflected on the CDN.