Using custom searches
Custom searches enable users to search for specific members. They also allow you to set access permissions for pages, define notification recipients, and perform other tasks.
Creating a custom search
1. Go to the custom search screen
Search conditions can be specified on the custom search screen. To access it, select [Operation] -> [Custom search] in the sidebar menu.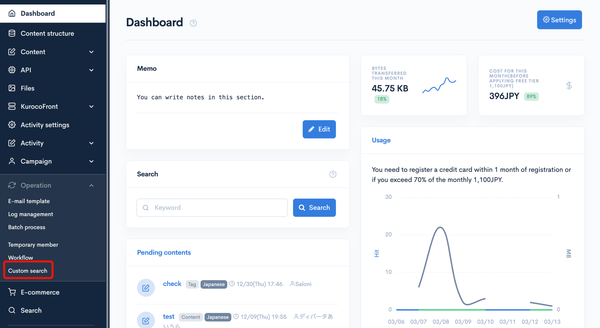 On the custom search list screen, click [Add] in the upper right corner.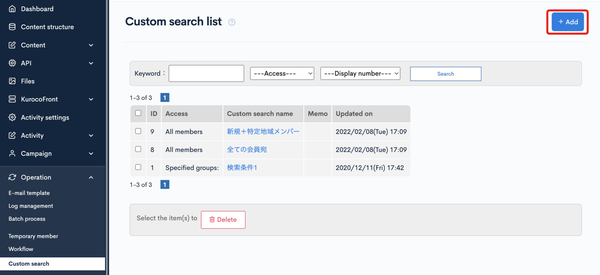 2. Configure the search condition settings
Fill out the custom search editor with your desired settings. Refer to User guide: Custom search for more information on the input fields.
Sample input:
Custom search name: New and regional members
Access: All members
Module search conditions: AND
Use for authority settings: Check "Use"
Memo: [leave blank]

3. Input your search condition
You can specify search conditions for the member, search, e-commerce, and function modules.
Below is an example of a search for members who have registered within the last 30 days and who live in Tokyo or abroad.
a. Set up a filter for members who have registered within the last 30 days
Under the "Member" tab, select [Insert Date] -> [Relative] -> [>=] and enter today -30 day in the textbox.

b. Add grouped conditions
Click ▼ next to the [Add] button and select [Add grouped condition].
c. Set up a second filter for members whose address is located in Tokyo or abroad
Under "Grouped conditions", select [Prefecture] -> [in] -> [Tokyo]. Then, click [Add] and select [Prefecture] -> [in] -> [Abroad].
d. Select the logical operator
Set the outermost oeprator (between the date and the prefecture filter) to AND, and the operator within the grouped condition (between the two prefecture selections) to OR.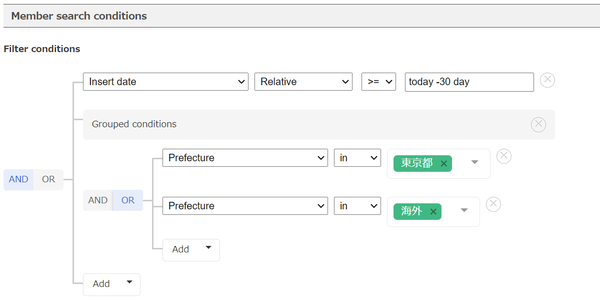 4. View your search results
Click [Check targets] and verify the search results. If there are no errors, click [Add] at the bottom of the screen to save this custom search condition.

Specifying relative dates
While the above example uses a relative date specification of today -30 day, you can configure different dates using the PHP date and time format.
Example
| Target date | Input |
| --- | --- |
| Yesterday at 12:00 | yesterday noon, yesterday 12:00 |
| End of next month | last day of next month |
| Specific date | 2021-03-24 |
| First Saturday of January, 2021 | first sat of January 2021 |
| Relative date | e.g., +5 weeks, +12 day, -6 month |
Functions that allow custom searches
Custom search conditions as configured above can be used in the following functions.
Content access restrictions
"Access restriction" under "Other settings" in the content editor.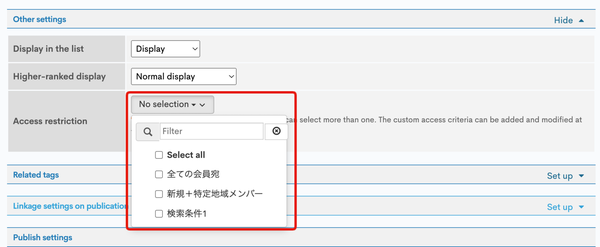 Notification recipients
The "Default recipients" selection in the notification editor.

Inquiry viewing restrictions
"View restriction" in the "Basic settings" tab of the inquiry editor.

Member list
You can use existing custom search conditions to filter the member list.