Maximizing your customer experience
with our API-centric platform design
Develop system-free applications with an enterprise headless CMS.
Our backend-for-frontends (BFFs) platform enables a smooth UI/UX
that is key to customer experience.
Cut development costs by using your favorite programming languages as is.
Say goodbye to the backend nightmares of traditional system development.
Pick and choose the features you want anytime with no limits.
Over 4,000 companies have used our service
Our clients include a wide range of organizations, from corporations to SMEs in finance, trade, manufacturing, IT, and other fields.
Why choose Kuroco?
With the experience of the RCMS, the 100% Japanese-made Kuroco has been adopted by numerous financial institutions and corporations,
evolving into a headless CMS well suited to our times.
Benefits of a headless CMS
Problems with the traditional CMS
Creating touchpoints with customers on various devices

Managing website and app data centrally

Combining the best aspects of multiple companies and services

Integrating core systems and marketing tools through API

Replacing top priority content when the overall requirements have yet to be determined

Improving the UI only without a complete revamp
Solutions from the headless CMS
Multi-device compatibility

Kuroco outputs data via API, so it can be displayed on different devices

Seamless integration of external systems and data

Since data is sent and retrieved via API, it can be easily integrated with external systems

Structure designed for gradual introduction

You can partially implement or phase in your new Kuroco site to replace your existing website
Comparison with other/traditional CMSs
Kuroco users

view content on a variety of devices

want to integrate the services they are currently using with the vendor's services

want to develop systems with a UI/UX focus

want to consolidate the work of designers, engineers, and writers

are looking for a CMS made for enterprises

Traditional CMS users

are looking for an all-in-one system

lack the resources for frontend embedding

don't need integration with other systems

are not familiar with a multi-company working style

WordPress users

want to launch their sites as soon as possible

are not looking for long-term operations;
they tend to be short-term users

want to build small-scale websites

want to take charge of everything on their own

prefer to use technology they are already familiar with
Full functionality and scalability to meet your enterprise needs
Kuroco's detailed functions and API-centric design greatly reduce backend man-hours, leveraging customer information for quick and easy delivery of a personalized experience.
More functionality and expandability than traditional headless CMS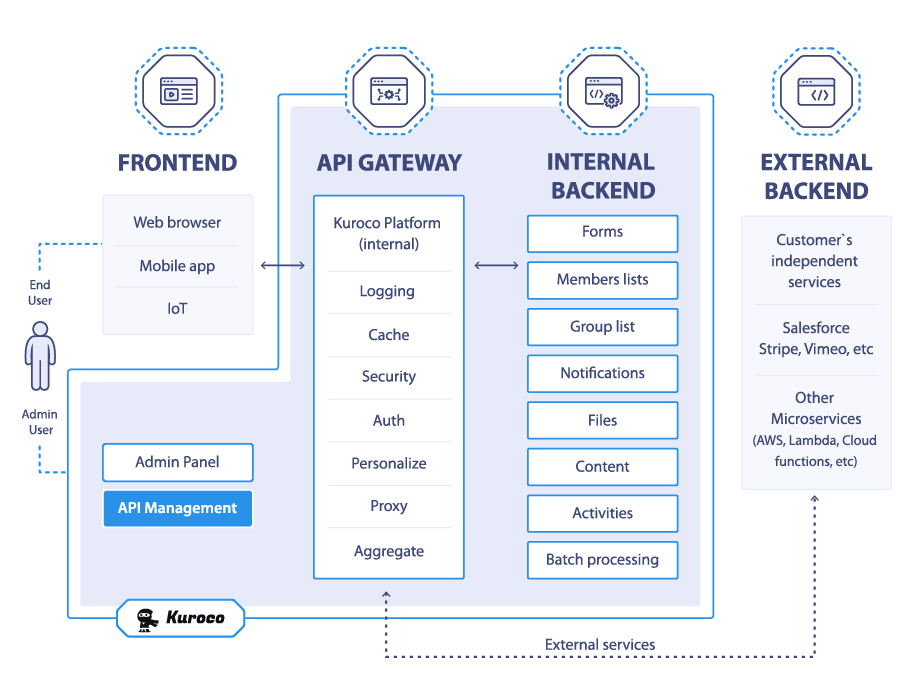 Kuroco is available in all languages and frameworks that work with REST APIs
Pricing model
Flexible, cost-effective, and fully usage-based pricing
No setup fees. Start immediately with our free plan up to $12/month of data usage.
If pay-as-you-go doesn't match your needs, we also offer monthly fee estimates or fixed-price contracts.
API request

$ 0.5 / 1,000 hits

Cached API request

$ 0.4 / 10,000 hits

Computing

$ 0.00011 / 100ms

Data transfer

$ 1.1 / 5 GB

Mail

$ 0.1 / 100 e-mails

File storage

$ 0.55 / 1 GB
You only pay for what you use.
Our economical design helps you maximize utility while minimizing cost.
Free Trial
Sign up for free!
Receive access info for your account and admin panel within minutes.
Contact Us
Request more info

Discuss your design and build needs

Book a demo

Inquire about fees and features
We would love to hear from you!