Using the WYSIWYG editor
​ The WYSIWYG editor used in Kuroco is as intuitive as Microsoft Word, making it easy for anyone to create and edit content.
If you switch to Source mode, you can also edit HTML directly, so those who have knowledge of HTML can create content more flexibly.
You can switch to Source mode by clicking on the [Source] tool icon, which allows you to smoothly edit HTML while checking the design and layout.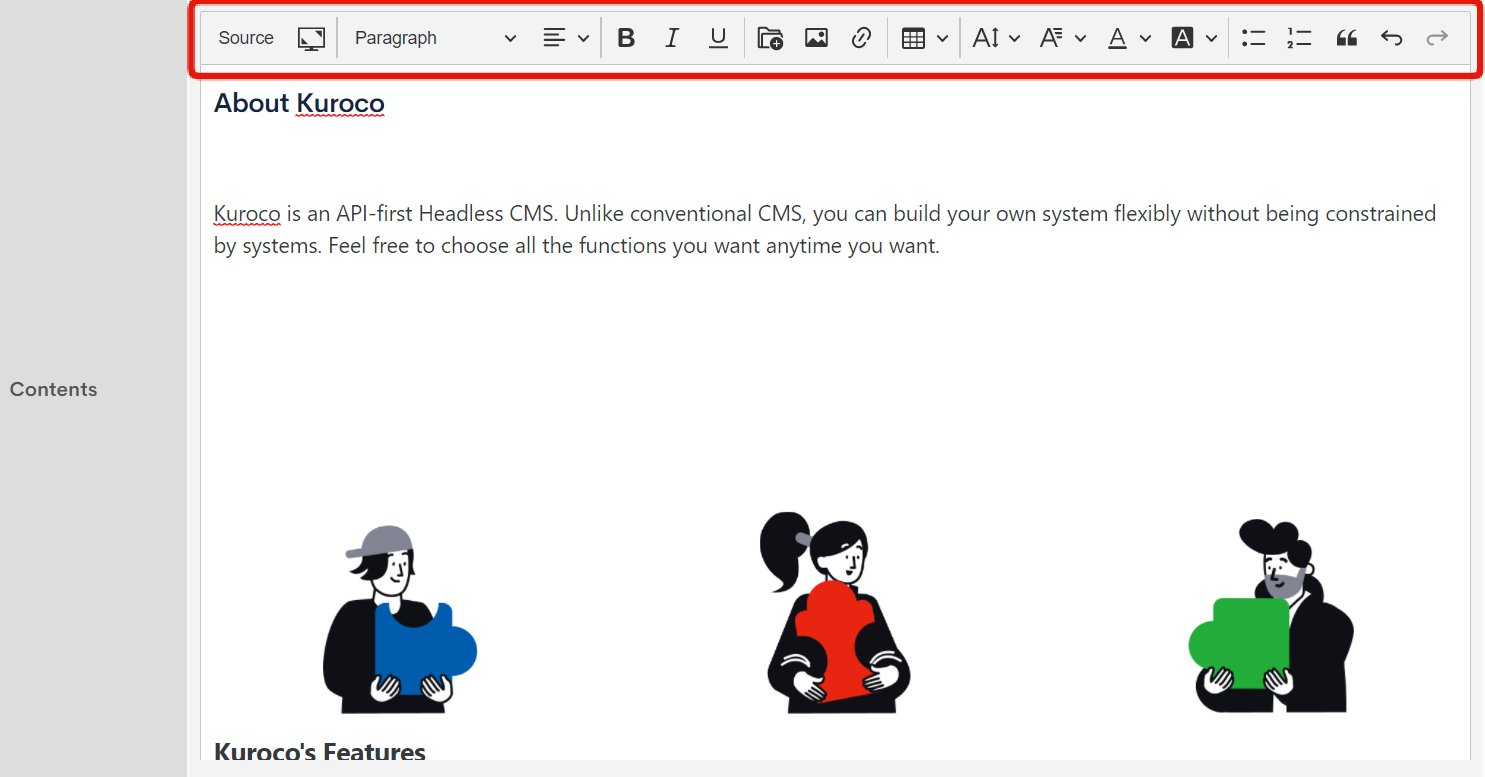 Tools Icons Description
Tool
Description

Source
Switches between design editing and HTML editing modes.

FullScreen
Changes the WYSIWYG editor to full-screen mode.

Heading
Set the heading tag.

Text alignment
Controls the [Left justification], [Right justification], [Center justification], and [Even justification] of the text.

Bold
Sets the Bold(B).

Italic
Sets the Italic(I).

Underline
Sets the Underline (U).

Insert image or folder
You can select and insert images stored in Google's Cloud Storage.
To use this feature, you need to integrate with Firebase.
Reference: Link with Firebase to store files in Storage

Insert image
You can insert images directly from your local storage (e.g. desktop). The inserted image will be automatically saved directly under KurocoFiles.

Link
Insert and edit links. Select the text you want to set a link to, and click the icon.
The following pop-up window will appear, and you can enter the URL.


Insert table
Insert a table. Click on the icon to display the following window, and specify the rows and columns.


Font Size
You can change the size of the text.

Font Family
You can change the font of the text.

Font Color
You can change the color of the text.

Font Background Color
You can change the background color of text.

Bulleted List
Lists the sentences as bullet points. Select the sentences you want to list and click on the icon.

Numbered List
Lists the sentences in a numbered order. Select the sentences you want to number and click on the icon.

Block quote
Used to cite a text (e.g. to quote an entire paragraph).

Undo
You can undo the previous action(s).

Redo
You can cancel the previous "Undo" change(s).

Show more icon
Displays currently hidden tools.
How to customize the toolbar
When configuring the WYSIWYG editor as an "Extra column", it's possible to customize which icons to display from Extra columns of the Topics group edit.
Please refer to the following website for the possible config options.
Reference: CKEditor Ecosystem Documentation
Settings field:

Settings example:
uiColor::#4169e1
width::600
removePlugins::heading, undo, redo

Display example: