Management Plugin
On this page you can inject custom plugins to Kuroco management pages. Currently, Kuroco supports 2 types of plugins :
How to access to Management Plugin page
From the Account Settings page, click the [MngPlugin] tab.

Management Plugin Item Description

| Item | Description |
| --- | --- |
| Name | Displays the name of the plugin. |
| Type | Displays the type of the plugin (CSS or Vue.js). |
| Source | Specifies where the plugin is located. |
| Target | Specifies the management page and slot where the plugin should be loaded. |
| Props | In case of Vue.js plugin, you can insert a JSON object with initial props to be read by your plugin. Some specific pages and slots add additional props data. |
| Last updated | Displays the date and time when the plugin was last updated. |
| Edit | Click [Update] to open the plugin editing area. |
| Delete | Click [Delete] to remove the plugin. |
How to add and edit Management Plugin
Click [Add Plugin] to add, or [Update] to edit, to open the edit page of the Management Plugin.
After entering the content, click [Add] or [Update] to reflect the entered content.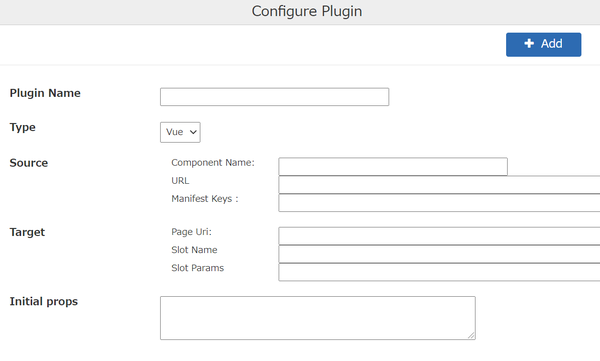 Item
Description
Plugin Name
Enter a name for the plugin.
Type
Set the type of the plugin.
Source Component Name:
For Vue.js type, Kuroco supports MPA-style applications. Please input the component name of an entry point in your MPA here.
Example: MyEntryPoint
Source URL:
The location where the application is uploaded. It could be any domain
Source Manifest Keys:
For Vue.js type, please input semicolon separated list of Webpack manifest keys of your app's components to be loaded in order. The value depends on your webpack code splitting & chunks configuration.
Example: MyEntryPoint.js;vendors.*
Target Page Uri:
The relative URI of Kuroco management page that will load your plugin. Please omit /management prefix of the URI. Also, it is possible to specify any custom page : in this case, this page will become accessible with your plugin as exclusive content.
Target Slot Name:
Plugins can be loaded in various locations depending on the value. Some pages support specific slots. Please refer to the table below
Target Slot Params:
Some pages accept slot params in order to configure specific conditions to load the plugins. For example, Contents Edit page may load a plugin only for a specific Group
Initial props
If you want to pass configurable props to your plugin, you can input them here as JSON object.
Example: {"my_prop": "my_prop_value"}
Available slots & slot parameters
Vue.js plugins
| Page Uri | Available slots | Available slot parameters |
| --- | --- | --- |
| any | Empty | - |
| /topics/topics_edit/ | ext_col_NN | topics_group_id=G |
| /inquiry/inquiry_report/ | list_main_top | - |
| /inquiry/inquiry_bn_list/ | list_main_top | - |
| /member/member_edit/ | Item name | - |
CSS plugins
| Page Uri | Available slots | Available slot parameters |
| --- | --- | --- |
| any | head | - |